Claes Thegerström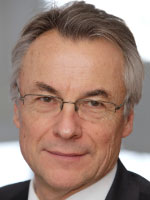 Since 2003, Claes Thegerström has been  CEO of SKB (Swedish Nuclear Fuel and Waste Management Company).
Claes Thegerström has devoted much of his career to the field of nuclear energy and engineering both nationally (Sweden) and internationally (OECD/NEA). An engineer at the Studsvik Nuclear Research Centre in Sweden (1974-1982) and then head of the SKB Radioactive Waste Systems department (1982-1986), he joined the OECD/NEA Radioactive Waste Protection and Management division (1986-1991).
In 1992, he became Director of SKB's deep disposal division, then Executive Vice Chairman of SKB, before becoming CEO.  SKB is the Swedish organisation dedicated to all aspects of  spent fuel and  radioactive waste management. It encompasses R&D and industrial installations (the  future Forksmark deep disposal centre  project, the Forksmark underground storage facility for short-lived technological waste (SFR), the Aspö underground hard rock laboratory, the Oskarshamn container laboratory and the Oskarshamn spent fuel storage centre (CLAB)).
Claes Thegerström is a member of the Linneus University Board (Sweden).
Claes Thegerström became a member of CNE1 in 1999. He joined CNE2 in 2007.